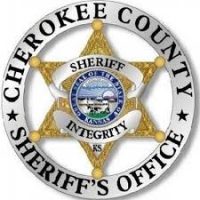 Just after 7 p.m. on Thursday, emergency personnel responded to an area just northwest of Galena at Southwest 90th and Clem Road, where a passerby saw the tail lights of an overturned SUV that was submerged in a creek.
Cherokee County Sheriff's Deputies located 35 year-old Wesley Woods, of Baxter Springs, trapped inside the vehicle. Deputy Noble Dobkins attempted to use a fence cable to walk on to get on top of the overturned SUV, but the doors were unable to be opened.
Firefighters from Lola Township and the Columbus Fire Department arrived with a tow cable where Deputy Matt Hatfield used the rope and connected it to their patrol vehicle and pulled the SUV on its side. Once on its side, emergency personnel were able to break one of the windows, allowing Woods to be pulled from his SUV.
A ladder was extended to the vehicle and Woods was placed on a backboard so rescue personnel could pass him along until he was back to the roadway. Woods was then transported to a local hospital for his injuries and low body temperature.
In a press release, Cherokee County Sheriff David Groves spoke on the bravery of his deputies. "There is no question, considering the frigid temperatures on Thursday night, this crash could have ended in a much more tragic way. I'm proud of the quick thinking and courageous acts demonstrated by law enforcement and firefighters at the scene, which no doubt resulted in the saving of the driver's life."