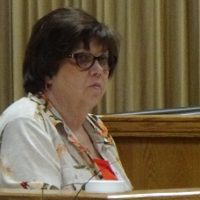 A statewide honor for Joplin's City Clerk.  Barbara Hogelin was named Outstanding City Clerk by the Missouri City Clerk's & Finance Officers Association during the Association's annual meeting in Columbia.  Hogelin tells News Talk KZRG how she earned the award.
"Character, it's based on progress that you've done, it's based on achievement awards.  There's an application process and the committee chooses clerks from peers from across the state."
Hogelin will mark 20 years as Joplin City Clerk in October. Among her accomplishments are the annual Christmas decorations at City Hall and raising money to put the City Seal in the lobby at City Hall.
Before the April 3 Joplin City Council meeting, there will be a reception to honor Hogelin from 4:30 to 5:45pm.