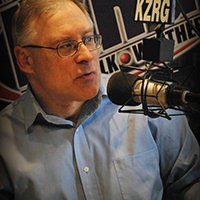 KZRG News Anchor/Reporter
Joe Lancello has been part of the KZRG news team since August 2010.
As afternoon news anchor and night side reporter, he covers city council, school board and other meetings that are important to you.
Joe can also be heard giving sports reports during the KZRG Morning NewsWatch, and as the public address announcer for Joplin Demize soccer games.
Joe graduated from the University of Minnesota with a degree in journalism and was student manager for the Golden Gopher football team for four years.